The people at IIASA are its most valuable asset and the institute continues to attract and retain world-class talent. In 2018, 395 researchers from 50 countries worked at the institute, gaining access to new perspectives, methodologies, and funding, which also helps build the systems analysis capacity of their home countries.
People management
Human capital management is a high priority at IIASA following a period of rapid expansion of the numbers of researchers and staff working at the institute.
Human resource policies and procedures are in place for staff categories, personnel procedures, overtime, leave, maternity regulations, childcare benefits, retirement, temporary assignment, incentive payments, good scientific practice, conflicts of interest and commitment, code of conduct, outside interests, housing services, and health and safety rules. These policies are in the IIASA handbook and staff rules and regulations (sections 4.2 and 4.3 of the IIASA Operating Procedures and Policies). Hiring and extending staff is implemented and documented through the forms and approval processes of the IIASA management information system.
In addition to Austrian labor law, a series of federal laws concerning IIASA and international organizations in Austria provide the institute and its employees with a range of immunities and privileges allowing IIASA to offer competitively advantageous employment conditions compared to Austrian employers (Austrian federal law and official gazettes: BGBl. Nr. 117/1973; BGBl. Nr. 677/1977; BGBl. Nr. 344/1978; BGBl. Nr. 476/1978; BGBl. Nr. 441/1979; BGBl. Nr. 219/1981; BGBl. Nr. 609/1990; BGBl. Nr. 666/1994).
In 2018 a new staff performance appraisal system was introduced and the first cycle completed. In addition, new policies and strategies for the management of human resources at IIASA were developed. These include new policies on merit increase procedures, retirement planning, compensation and benefit structures, levelling and job grading, compliance with new legal regulations in Austria as well as EU legislation. In light of the General Data Protection Regulations which came into force in May 2018, the Human Resources department adapted all relevant rules and policies. A legal review of contract types was initiated in 2018 in order to set up a new contractual framework for the differing types of staff members at IIASA to support the institute's mission and vision. During 2019 a campaign will be run to define IIASA's core values for the future.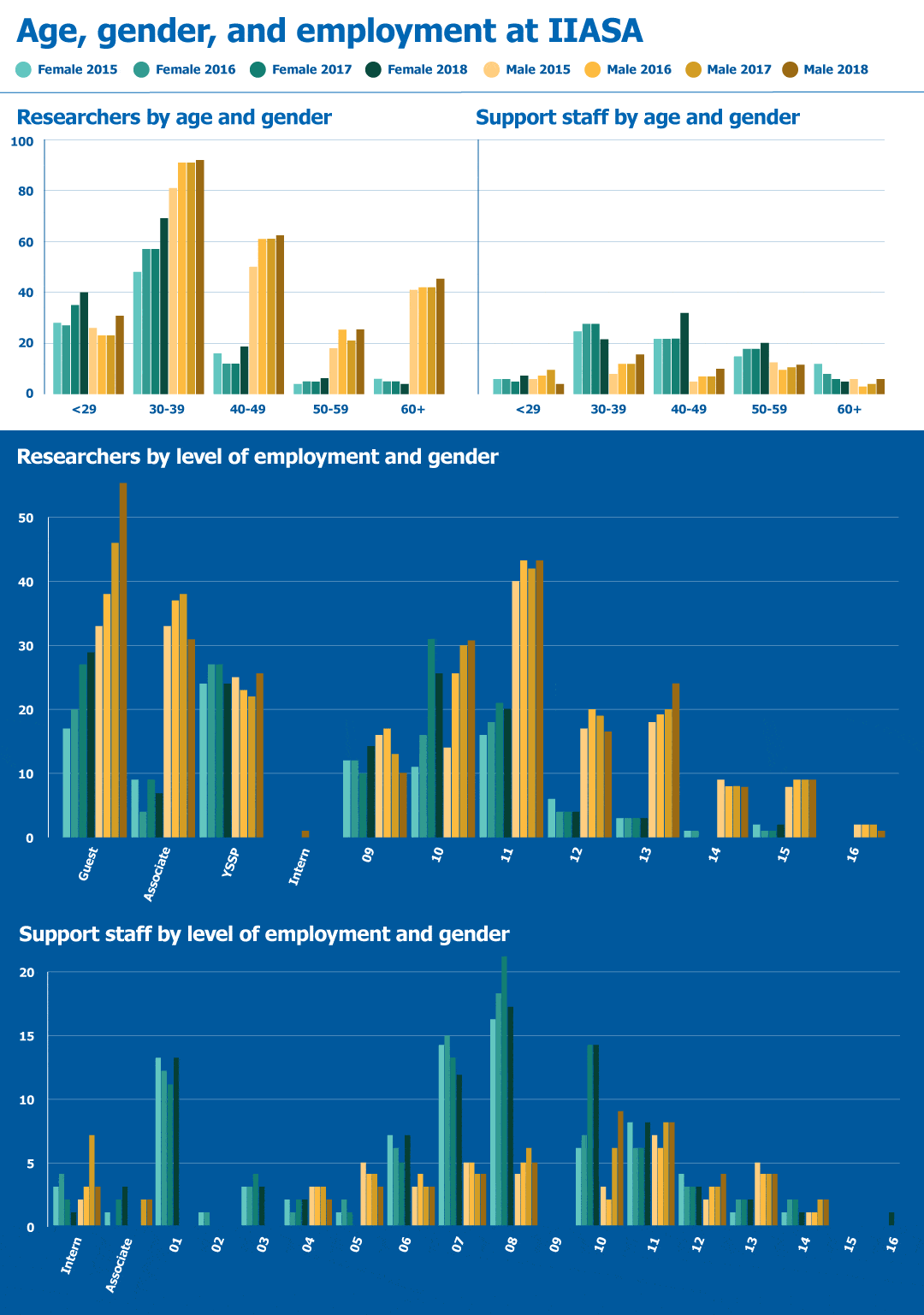 IIASA guidelines and regulations for good scientific practice
The IIASA guidelines and regulations for good scientific practice are intended to help avoid scientific misconduct, conflicts of interest and commitment as well as promoting quality science. The institute recognizes its responsibility to nurture an environment of mutual respect, tolerance, and ethical behavior according to the general principles outlined in these rules. No such cases of scientific misconduct arose in 2018.
Works Council
In 2018 a Works Council was established at IIASA in accordance with Austrian employment law. The Human Resources department and the newly instated Works Council worked on developing channels for communicating legally required and institutionally beneficial information between the institute (as employer) and employees. Possible disputes arising out of miscommunication and misunderstandings were able to be resolved amicably by collaboration between the Human Resources department and the Works Council.
Diversity and equality
Many of the characteristics that make IIASA unique, as articulated in its Charter, also present challenges for both the attractiveness of IIASA as a place to work and for the retention of high-quality employees. IIASA's internationality, while being a distinct advantage, also raises challenges in terms of managing cultural, social, and geographic diversity.
As an international research institution, IIASA was founded with a commitment to the principles of equal opportunity, anti-discrimination, gender balance, cultural accommodation, and geographical distribution in its hiring, promotion, and administrative practices. With a staff made up of over 50 nationalities, it is an inherently diverse institution. However, like all diverse organizations, it struggles with issues of equity, tolerance, and promotion of diversity at all levels of the institutional structure.
In 2017 the Council issued Resolution 696 supporting the formation of a holistic diversity strategy to be developed by IIASA with the assistance of an external consultant. The initial terms of reference include an assessment of diversity, a benchmark of diversity compared with other organizations, and the development of a vision for a more diverse workforce at IIASA. The IIASA management will report back to Council on the ongoing progress and planned actions by June 2019.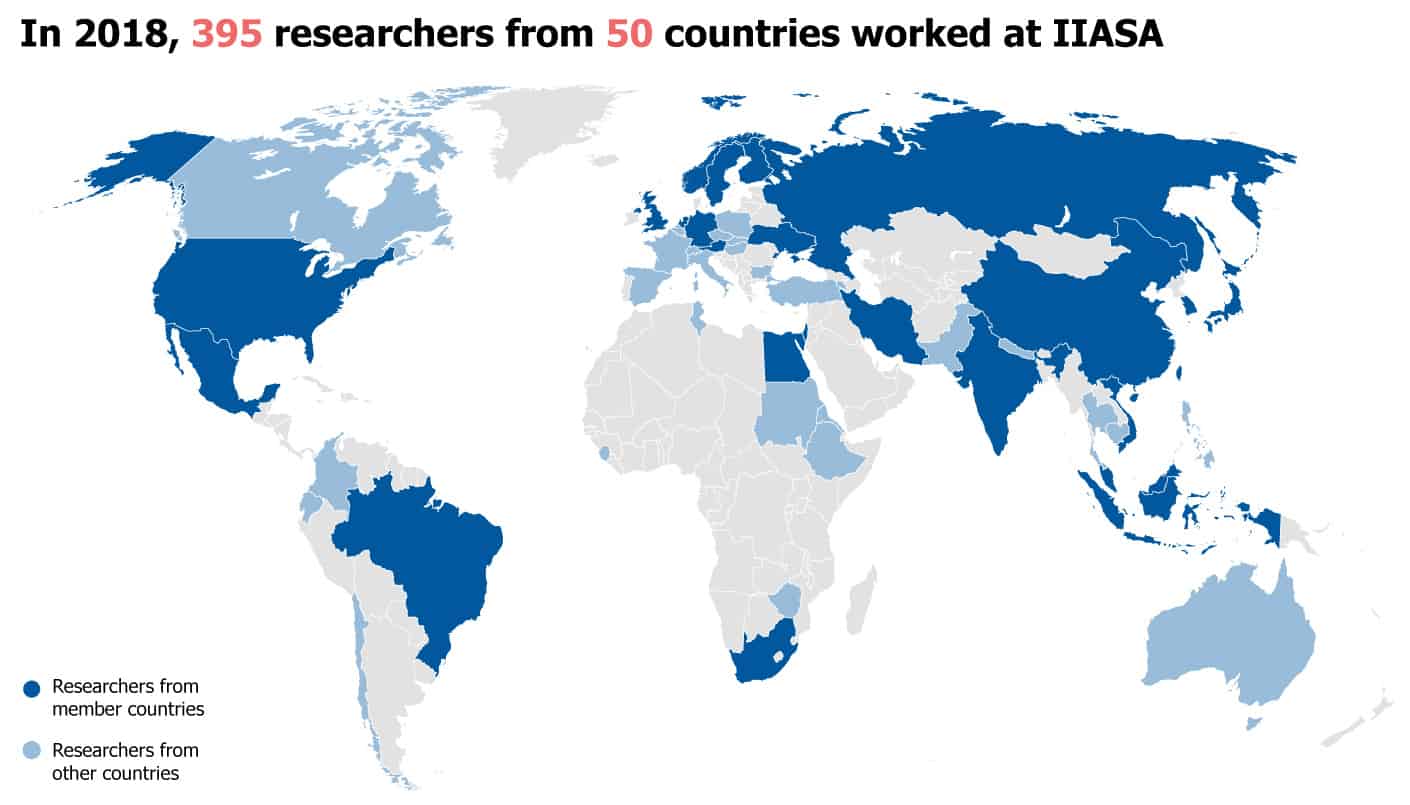 Furthermore, to underline the importance of offering equal opportunities, IIASA explicitly states in all job advertisements its commitment to a working environment that promotes equality, diversity, tolerance, and inclusion within its workforce and encourages qualified candidates from all genders, and religious, ethnic, and social backgrounds to apply.
In 2018, IIASA continued to provide the service of the Institute Counselor, a Human Resource Consultant and Cognitive Behavior Therapist, as a work psychologist to provide training and counseling related to cultural and social diversity and work environment issues. The services of the Institute Counselor have been a well-used resource, appreciated by staff who can obtain confidential counsel. The Institute Counselor is an impartial, trusted individual who can offer IIASA staff support with the challenges and opportunities related to living and working in an international scientific environment. Twice yearly anonymized updates and statistics are provided to management in order to address any issues that may arise.
IIASA Code of Conduct
All IIASA staff must be treated equally and with respect, regardless of gender, race, religion or belief, nationality, ethnic or social origin, age, sexual orientation, marital status, or other aspects of personal status and no behavior can be tolerated at IIASA that constitutes harassment, sexual harassment, discrimination, bullying, retaliation, or any related acts.
The IIASA Code of Conduct Policy for a Professional Working Environment outlines the responsibilities of IIASA, staff, and management in these areas. Employees found to have breached these conditions are subject to disciplinary action in accordance with Article IX, Disciplinary Measures of the IIASA Staff Rules and Regulations.
In 2018 nine incidents of misconduct were reported to the Human Resources department, three disciplinary measures were taken by the management after finalization of the investigations.
Partnership
The Human Resources department entered into a mutually beneficial partnership with the International Anti-Corruption Academy (IACA) in 2018, to promote an exchange of services, expertise, and information.